Volunteer Information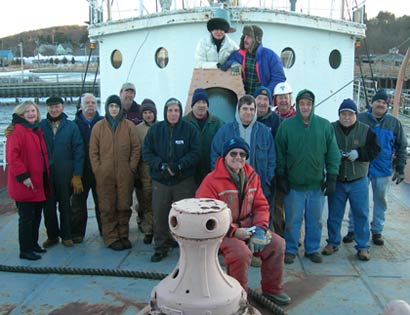 Become a volunteer
The United States Lightship Museum is looking for volunteers who are passionate and committed to preserving historic properties and artifacts. As a volunteer, you will be involved in helping to restore and preserve one of our nation's most unique maritime treasures — Nantucket Lightship / LV-112, a designated National Historic Landmark. Moreover, you will meet a group of people who share your interests and commitment to historic preservation. In addition, the LV-112 Preservation Project will provide an exceptional teaching and learning environment — a floating learning center We are looking for individuals willing to volunteer their time in the following areas: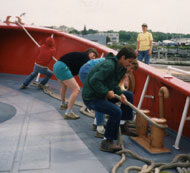 A group of students helps with securing LV-112's dock lines.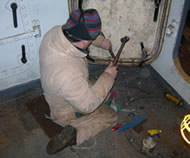 A volunteer making repairs on the watertight door seal.
Administration
Mechanical repair (marine diesel engines, air compressors, electrical generators, etc.)
Welding/metal fabrication
Plumbing/heating
Preparation and paint (all phases of metal prep, sandblasting, etc.)
Tour guides
Research
Writing and editing (website / newsletter)
Desktop publishing (MAC)
Photography/videography
Grant writing
Marine electrical systems
General miscellaneous duties
The United States Lightship Museum is composed entirely of volunteers who include former U.S. Coast Guard lightship veterans, maritime historians and enthusiasts. Moreover, we are looking for anyone who has an interest and passion for maritime history.
Please click on the printable volunteer form and mail it to: United States Lightship Museum, P.O. Box 454, Amesbury, MA 01913